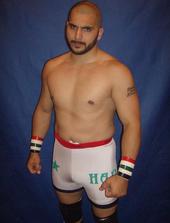 Name: Issan Hadeev.

A.K.A: The Arabian Assassin, Middle East Beast, Iraqi Soilder.

Height: 5"11

Weight: 210 lbs

Hometown: Champaign, IL.

Ethnicity: Arab-American.

Religion: Muslim.

Finishing moves: The Jihad (reverse double clutch neckbreaker), the Camel Clutch and the Cobra Clutch.

Signature moves: Nuclear strike (atomic drop and spinebuster), Iraqi stomp (stomp the shit out of every part of your opponents body while on the floor), Suicidal bomber (crossbody from the top turnbuckle to the outside), fallaway slam, gun slinger and side effect.

Wrestling style: A little bit of everything.