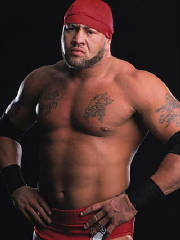 6'2''
240 lbs.
Finishing Move: The Blackout
Trained by: The Junkyard Dog
Debut 1993
Rodney Mack entered WWE in early 2003, helping John Cena attack his former lackey B-2 on Smackdown. Cena identified him as Redd Dogg, but he was soon traded to Raw. He appeared under the name of Rodney Mack, and took Theodore Long as his manager. Long felt that the black wrestlers of WWE weren't getting opportunities and getting held down by "the man." Long initiated the "White Boy Challenge" where Mack would take on unknown white wrestlers and bragged he could beat them in less than five minutes. Mack went through them with little trouble, but Spike Dudley almost outlasted him.